Situation of external account expected to remain benign, but in less relaxed picture than previously estimated
10/31/2022
---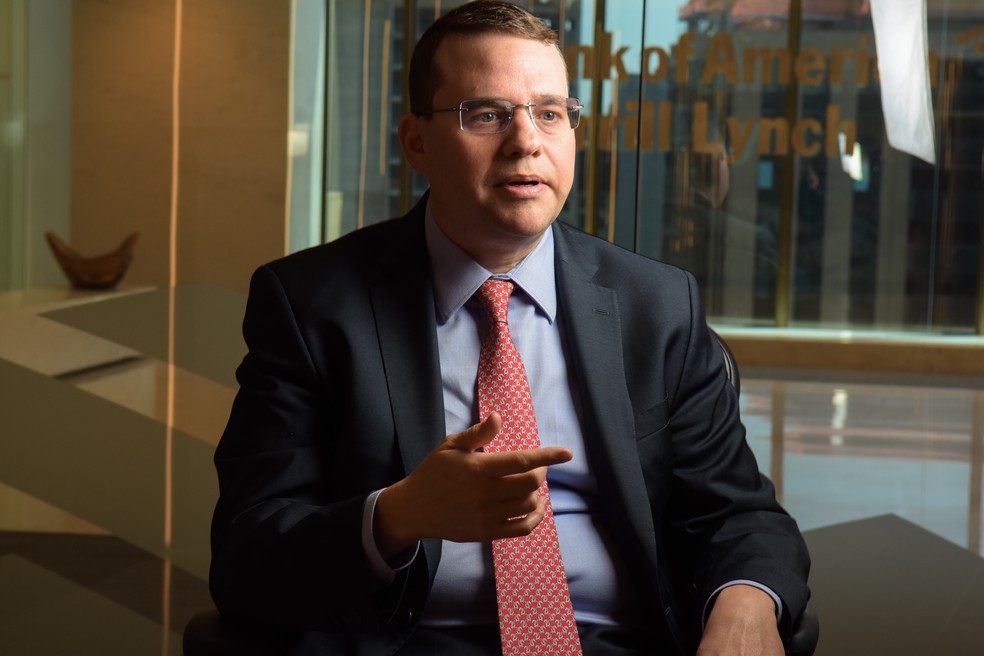 David Beker — Foto: Silvia Zamboni/Valor
Brazil's foreign trade is at record levels, with flows increasing considerably. Although analysts view the country's trade opening positively, it also results in greater exposure of the economy to global fluctuations amid the prospect of an increasingly unfavorable external scenario.
The worsening terms of trade (a measure of a country's export prices relative to its import prices) and the cooling demand in major markets negatively impact the country's trade balance and its current account, which shows the transactions of goods, services, and income of Brazil with foreign countries. The situation of the external account is expected to remain benign, but with less room than previously estimated.
Using Central Bank data, Bank of America (BofA) shows that Brazil's two-way trade, measured by the weight of exports and imports over the country's GDP, renewed a record in September this year, reaching 37.41%, up from 31.84% in the same period last year and 22.92% in September 2019, before the pandemic.
Brazil has historically been an exporter of commodities, with increasing trade opening since its re-democratization in the late 1980s, notes BofA. At the same time, as the country has grown, imports have also increased.
"The scope of the Brazilian economy opening, however, seems to have accelerated considerably in the last four to five years, as the country's international trade, in terms of GDP, has increased from less than 20% to almost 35% of GDP in that period," said David Beker, David Hauner and Claudio Irigoyen, with BofA. "Such a development, while generally positive, results in a greater exposure of the Brazilian economy to global fluctuations."
Monthly data show that the most recent gain in the representation of trade flows over activity is explained by both rising import and export levels. On the export side, however, most of the growth comes from higher prices, while imports are driven by both higher quantities and values.
Commodity prices soared at the beginning of the year – with a slowdown in recent months, pondered BofA – influenced by the conflict between Russia and Ukraine, which benefited exports.
Manufactured items, which are the bulk of Brazil's imports, also saw large price increases because of persistent problems in global chains after the Covid-19 shock.
Price changes, however, were asymmetric, BofA points out, with import values growing significantly more (30.1%) than export values (16.3%) when comparing the period of January to August with the same period in 2021. "As a result, the terms of trade fell by 10.5% over this period, hurting the balance of trade results," the bank's team said.
In addition, Brazil's relative economic performance has also been stronger, they say. Increased domestic consumption drives up imports, exacerbating the already adverse price movement. "In the third quarter, the quantity imported was the main highlight and showed important growth, even when we take into account the positive surprises with the GDP," said Bradesco's economists Rafael Murrer and Myriã Bast, in a report.
The deterioration of the global scenario, as major economies continue to show signs of slowing and central banks around the world adopt a more aggressive stance in their interest rate hike cycles, also plays a role, BofA said. "This has reduced demand for Brazil's exports from key markets such as China," the bank's team says.
All these combined effects are driving more imports than exports and have led to lower-than-expected trade balance figures, consequently leading to revisions in the projections for the current account of the balance of payments.
BofA increased its projection for this year's current account deficit to $32.5 billion (1.7% of GDP) from $10 billion (0.5% of GDP). The new figure reflects a lower-than-expected trade balance, which went to $55 billion from $65 billion. Bradesco, which expects a $40 billion deficit (2.1% of GDP) in the current account in 2022, projects a trade balance of $58 billion this year, which would be equivalent to $47 billion in the balance of payments.
The Economy Ministry's foreign trade statistics use a different methodology than the Central Bank's to calculate trade transactions, since the ministry only accounts for the physical movement of goods, while the Central Bank considers any transaction where ownership is transferred between residents and non-residents.
In its latest Quarterly Inflation Report (RTI), published in September, the Central Bank lowered its projection for the trade balance in 2022 to $42 billion from $86 billion, after raising the forecast for imports and reducing that for exports. With this, its estimate for the current account went from a slight surplus of $4 billion (0.2% of GDP) to a deficit of $47 billion (2.5% of GDP). In the Focus, Central Bank's weekly survey with economists, the median of forecasts indicates a smaller deficit, of $32.3 billion.
Also weighing on the recent changes in the current account projections are new estimates for the balance of services and primary income. The Brazilian balance of services – which accounts for expenses with international travel and equipment rental, for example – is traditionally in deficit. In the pandemic, as global mobility was halted, it reached the lowest negative figures since the 2008 crisis, of $17.1 billion in 2021. Now it is expected to return to something closer to pre-pandemic – in 2019, the deficit was $35.5 billion. Bradesco projects a $32.1 billion deficit. BofA has increased its deficit forecast to $30 billion from $25 billion.
"For primary income, the main highlight is high profit and dividend remittances, which have been higher than previously expected," said Mr. Murrer and Ms. Bast, with Bradesco, forecasting a $58.4 billion deficit. BofA adjusted its projection to a negative balance of $57.5 billion from a negative balance of $50 billion. The growth in remittances may reflect, according to economists, both stronger activity in Brazil and greater uncertainty about the country's future.
Even with the downward revisions to the current account balance, Brazil's external accounts remain at a comfortable level, because the deficit is largely financed by inward direct investment (IDP), whose projections have even been revised upwards.
The strong flows took Bradesco's IDP estimate to $75.1 billion this year (4% of GDP), influenced mainly by the improvement in domestic activity and the high level of interest rates. BofA raised its projection to $70 billion from $60 billion in 2022.
"Brazil maintains a comfortable condition in relation to its external account, even if the picture is less 'loose' than originally estimated. According to our projections, we will continue to be better positioned than some emerging peers," said Bradesco's economists.
Livio Ribeiro, a partner at BRCG consulting and associate researcher at the Fundação Getulio Vargas's Brazilian Institute of Economics (Ibre-FGV), ponders that the aggregate financing level, however, is low.
"The sources of funds in the balance of payments go far beyond direct investment. There are fixed income flows, portfolio flows, and loan rollovers. And what we have seen is an outflow of fixed income, a big decrease in portfolio flow, and roll-over rates of less than 100% – that is, the pace of taking new loans is lower than the amortization of the old ones," Mr. Ribeiro explains.
This general structure of less abundant financing, according to him, reflects a world that is more challenging and occurs simultaneously with the process of faster acceleration of the current account deficit than was assumed. "By no means do we have an external constraint problem, but the slack that was thought to exist in the current account is smaller, and the aggregate financing slack is smaller still," he said, projecting a current account deficit of $45 billion (2.5% of GDP) in 2022.
*By Anaïs Fernandes — São Paulo
Source: Valor International