Brazil accounts for 10% of the world's green jobs, mainly in hydropower and biofuels
11/07/2022
---
Ronaldo Ribeiro de Freitas Filho, 34, has always liked renewable power. A trained electrotechnician and engineer, he was 23 when he decided to "migrate" to the "green job" field. And, on his own initiative, he decided to search for qualification. The opportunity came when he joined Enel, an Italian multinational company that generates and distributes electricity and gas, in 2011. The company was signaling that it would join the renewable segment with the foundation of Enel Green Power, which manages and develops energy production activities from renewable sources, in 2008.
Over the years, the company offered him opportunities to specialize in this field, and Mr. Freitas Filho took the opportunity. "I was lining up both opportunities that Enel gave me, and those I sought out on my own," he said. Today he is the manager of Enel Green Power's operations center in Brazil, and is studying at the Politecnico di Milano university through a program offered by the company. "We have options in the market to seek [qualification]," he said. "But I feel that partnerships could be explored more [to raise supply in training in this field], between companies and universities."
His feeling is shared by other experts in renewable power generation. They say Brazil has the potential to generate at least 2 million jobs in renewable projects over the next five years, nearly two times the current number of jobs: in the country, there are about 1.2 million workers in this field. And there is not enough training to qualify for such a future volume of new workers.
Brazil accounts for 10% of the world's green jobs, mainly in hydropower and biofuels, according to the International Renewable Energy Agency (Irena). Experts say the country will strongly accelerate the pace of job generation.
The wave will be more directed to solar and wind power in the coming years, a perceptible conclusion in view of projects in these areas contracted in auctions. In practice, however, there is insufficient availability of training for new entrants to the sector's job market, according to the ClimaInfo Institute, a non-profit organization focused on climate change studies; the Brazilian Association of Solar Power (Absolar); and the Brazilian Wind Power Association (Abeeólica).
These associations advocate partnerships between government, companies, and universities to increase qualification in renewable power. This would prevent a possible future hurdle in the expansion of the sector's labor market.
In the country, there are about 1.2 million workers in renewable energy, said Aurélio Souza, an adviser with the ClimaInfo Institute, citing data from Irena. The engineer, CEO of Usinazul consultancy, and a researcher at the Photovoltaic Systems Laboratory of the Institute of Energy and Environment of the University of São Paulo, also helped to prepare a study on the Northeast region. Launched this year by Centro Brasil no Clima, Fundo Casa Socioambiental, Grupo Ambientalista da Bahia and ClimaInfo Institute, the work includes projections of power generation and jobs in the Northeast region through green projects.
The study estimates 2 million jobs more in five years. The calculations take into account concessions already granted for 66 gigawatts, more than 90% of which are solar and wind power. This is because, with well-consolidated biofuels and hydropower plants, there is more room for growth in generation and employment in these two other power sources. One gigawatt is equivalent to 1,000 megawatts. "Each megawatt installed [generates] 30 job positions per year in solar power and 15 in wind power," he said.
The employment estimates in the study include only the Northeast region, he said. Thus, the pace of job openings may be even higher considering ventures in other regions. "Today, we have a lag in qualification according to what [future] demand needs," he said.
As for solar power, there is no exact calculation of labor shortage at the moment, said Pedro Drumond, Absolar's coordinator and a specialist in people management in the renewable power segment. Mr. Drumond said that, in the last 10 years, the offer of undergraduate and doctorate degrees related to energy has grown, as well as courses for panel builders, in the private and public sectors. "But the labor force is not yet qualified in the way we need," he said.
Mr. Drumond suggested greater partnerships between companies and universities to meet the need for more and better qualification. In recent years, he said, companies have trained their own personnel – which would not be enough, he noted.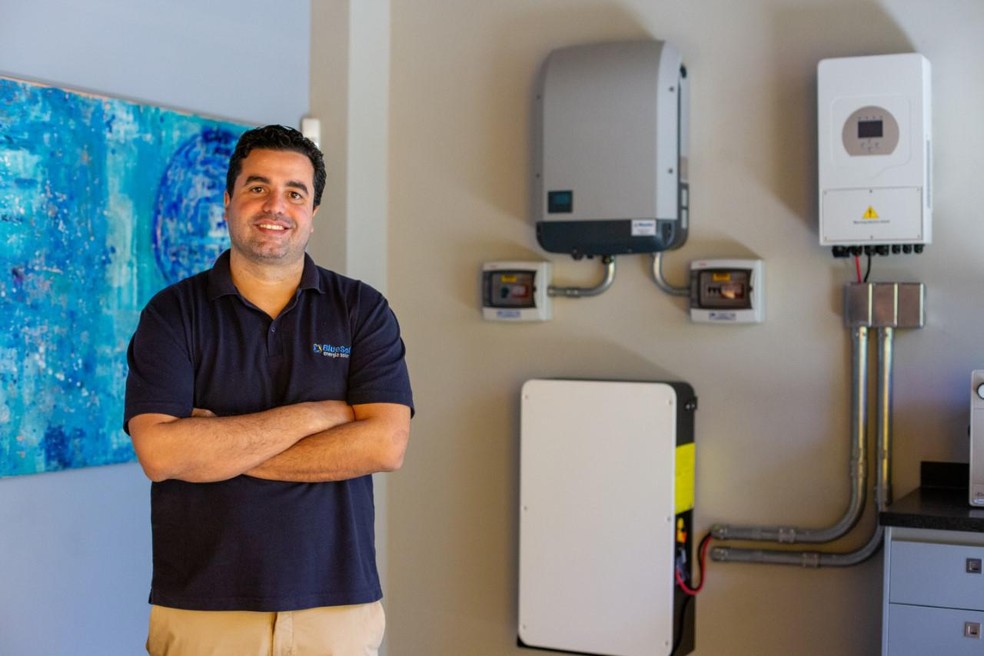 José Renato Colaferro — Foto: Divulgação
Blue Sol Energia Solar, which operates in the photovoltaic sector for 13 years, was one of them. José Renato Colaferro, the company's founding partner, said that more than 18,000 students were trained in the so-called "Blue Sul University" launched in 2017.
Mr. Colaferro emphasized that it is not an easy task to train professionals for solar. This requires training in three pillars of knowledge. The first is regulatory knowledge of the power sector; the second is to understand the market, suppliers, and production costs; and the third is the technical part, to understand how the solar panel structure works.
To qualify such a worker, especially for future demand, more investment in training is needed today, said Mr. Colaferro. A qualified professional is not formed overnight, he noted.
In the wind power segment, there are qualified workers currently on the market to meet the demand, said Elbia Gannoum, head of Abeeólica. "Today we don't have a lack of professionals," she said. "But it is not enough for future demand. Every real invested in the wind sector generates 1.9 jobs in the sector's production chain," she said.
Abeeólica is aware of this, she said, and has held meetings with market players; and talked to research institutions and training professionals to expand courses and training. There are successful cases in this field, such as the Renewable Energy Engineering course at the Federal University of Ceará, she said.
But she acknowledged that it is necessary to expand more qualification supply. "What happens today is that those who want to enter the renewable segment seek training. They take courses, they adapt," she said. "What I am seeing is an adaptation. But there is no coordinated action to focus on this [in professional qualification]."
By October 2022, solar energy had an installed capacity of 21 GW, in centralized generation (large plants) and in distributed generation (micro and mini plants), and generated 630,000 jobs, according to Absolar. The centralized solar generation alone is expected to reach 10.3 GW in 2026, the Brazilian grid operator ONS says. Wind power has 24 GW of installed capacity, according to Abeeólica, and, with contracts already closed so far, the forecast is to reach almost 40 GW by 2026.
*By Alessandra Saraiva — Rio de Janeiro
Source: Valor International