Consistent delivery of business jets during Covid-19 pandemic, increasing use of fleet contributed to decision
06/22/2022
---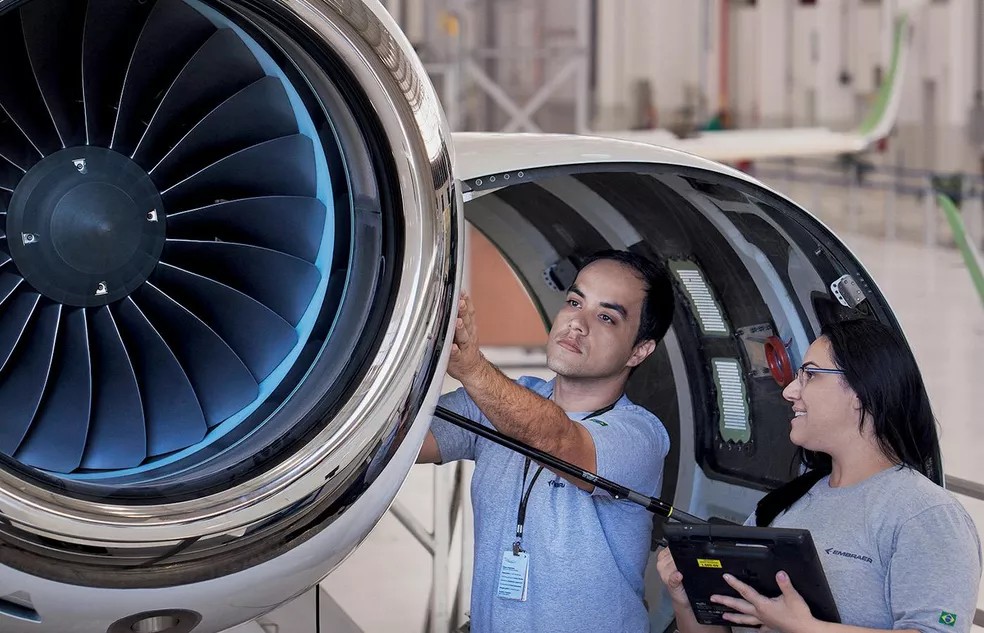 In the next three years, 150 new workers are expected to join the center's current 150 employees — Foto: Celso Doni/Valor
Embraer, the world's third-largest commercial plane maker, doubled the useful floor area of its service center in Sorocaba, São Paulo, in order to follow the advance of business aviation in Brazil. The expansion required investments of R$10 million.
"It is a natural growth, especially because of the business jet sales growth," said Johann Bordais, CEO of Embraer Serviços e Suporte. The consistent delivery of business jets during the Covid-19 pandemic and the increasing use of the fleet contributed to the decision of moving forward with the project, the executive said.
The center, which started operating eight years ago and is 100 kilometers far from São Paulo, now has 40,000 square meters of useful floor area and four hangars, three of which focused on maintenance, repair and overhaul of components for Embraer planes. The fourth hangar is focused on supporting fixed-base operation.
Considering the services provided in Gavião Peixoto (São Paulo) as well, the company executes around 600 maintenance procedures a year. These procedures are expected to grow 5% to 10% a year. After the expansion, the service center in Sorocaba is now able to handle future demand and receive larger aircraft, including KC-390 Millennium.
Embraer's center in Sorocaba offers from maintenance and overhaul services to airport services through workshops authorized for different aircraft components. The facility is also able to modify jets, including the conversion of Legacy 450s into Praetor 500s.
In the next three years, 150 new workers are expected to join the center's current 150 employees.
In the three first months of the year, the segment of support and services contributed with revenues of R$1.4 billion, almost 46% of Embraer's net revenues – the slice was so representative partly because commercial aviation has not resumed the pre-pandemic levels yet.
Still, this division, which currently accounts for 25% of revenues on average, is expected to gain more prominence, Mr. Bordais said. "This reflects our focus on supporting our clients." The company expects this business to grow 10% to 15% a year around the world.
*By Stella Fontes — São Paulo
Source: Valor International
https://murray.adv.br/wp-content/uploads/2016/06/logo-murray-advogados-300x138.png
0
0
Gelcy Bueno
https://murray.adv.br/wp-content/uploads/2016/06/logo-murray-advogados-300x138.png
Gelcy Bueno
2022-06-22 15:30:33
2022-06-22 15:30:37
Embraer expands service center in São Paulo driven by business jets