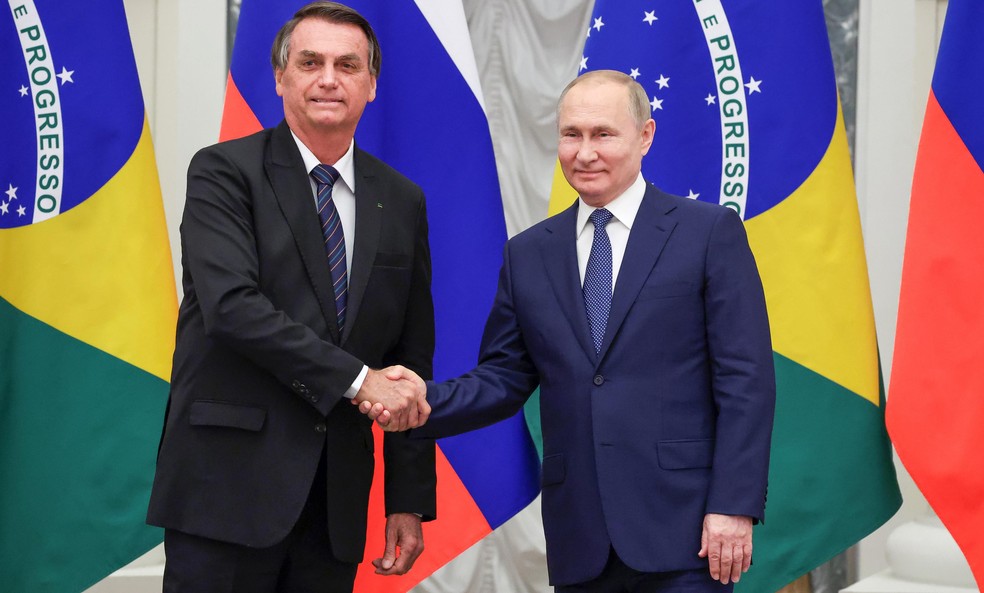 President Jair Bolsonaro traveled to Moscow last week without believing an armed conflict would occur on Ukrainian territory, despite several warnings raised in the international community in the weeks leading up to the visit.
At the Planalto Palace and the Foreign Affairs Ministry, known as Itamaraty, the feeling was that Russia would not go ahead with the idea of invading Ukraine because of the high economic cost of deploying troops and possible sanctions against the country ruled by Vladimir Putin, sources told Valor.
Contrary to what was expected in Brasilia, however, the situation has escalated dramatically in recent days, until the bombings and incursions of the Russians in Ukraine, by land, sea and air this Thursday. Not even the tightening of sanctions against Moscow, announced by several countries throughout the day, made Mr. Putin back down.
If the possibility of a war is no longer a surprise, it is also true that the Brazilian government bet until the last moment on a solution through diplomatic channels – something that not even Ukraine or the United States believed in.
"We always hope for a peaceful solution. But sometimes war happens. That's how it is," lamented a senior source in Brasília.
Although for Brazil the war in Ukraine came as a surprise, the Brazilian government received several warnings in recent months, especially from the United States, about the trip. The fear was that the Brazilian president would show alignment with Mr. Putin.
At Itamaraty, there was an effort to "depoliticize" the trip and demonstrate that the objectives of the Brazilian delegation in Moscow were merely commercial.
The agenda had two main highlights: facilitate imports of fertilizers and organize a meeting between CEOs of large Russian companies with Brazilian executives.
President Bolsonaro, however, managed to irritate the Americans by expressing "solidarity" with Russia. The speech, made impromptu next to Mr. Putin, ended up generating a diplomatic clash with the U.S.
The White House reacted through spokeswoman Jen Psaki, who said that "I think Brazil may be is on the other side of where the majority of the global community stands."
A Brazilian government source told Valor at the time that "the Americans are escalating an issue that does not deserve to be escalated."
After the first news that Russia was attacking Ukraine, the presidency and the Foreign Ministry have been asked to take a position on the conflict, especially because of Brazil's position as a temporary member of the United Nations Security Council.
Mr. Bolsonaro was silent throughout the day. The Itamaraty issued a note calling for "the immediate suspension of hostilities and the beginning of negotiations leading to a diplomatic solution to the issue, […] taking into account the legitimate security interests of all parties involved as well as the protection of the civilian population."
At a press conference, Minister Adriano Pucci, director of Itamaraty's Social Communication Department, denied that Brazil's position in the conflict is one of "neutrality."
"Brazil's position is one of balance, of unquestionable attachment to international law, to the resolutions of the United Nations Security Council, and to the centrality of the role of that body in finding a peaceful solution," he said. "Our conviction is that the more a situation deteriorates, the more reason there is for dialogue. And also that Brazil does not intend to contribute to making the drums of war beat. These drums, when you look inside, are empty."
Source: Valor International