Possible arrival of moniliasis in Pará would lead state to be closed, and cocoa exports forbidden
08/31/2023
---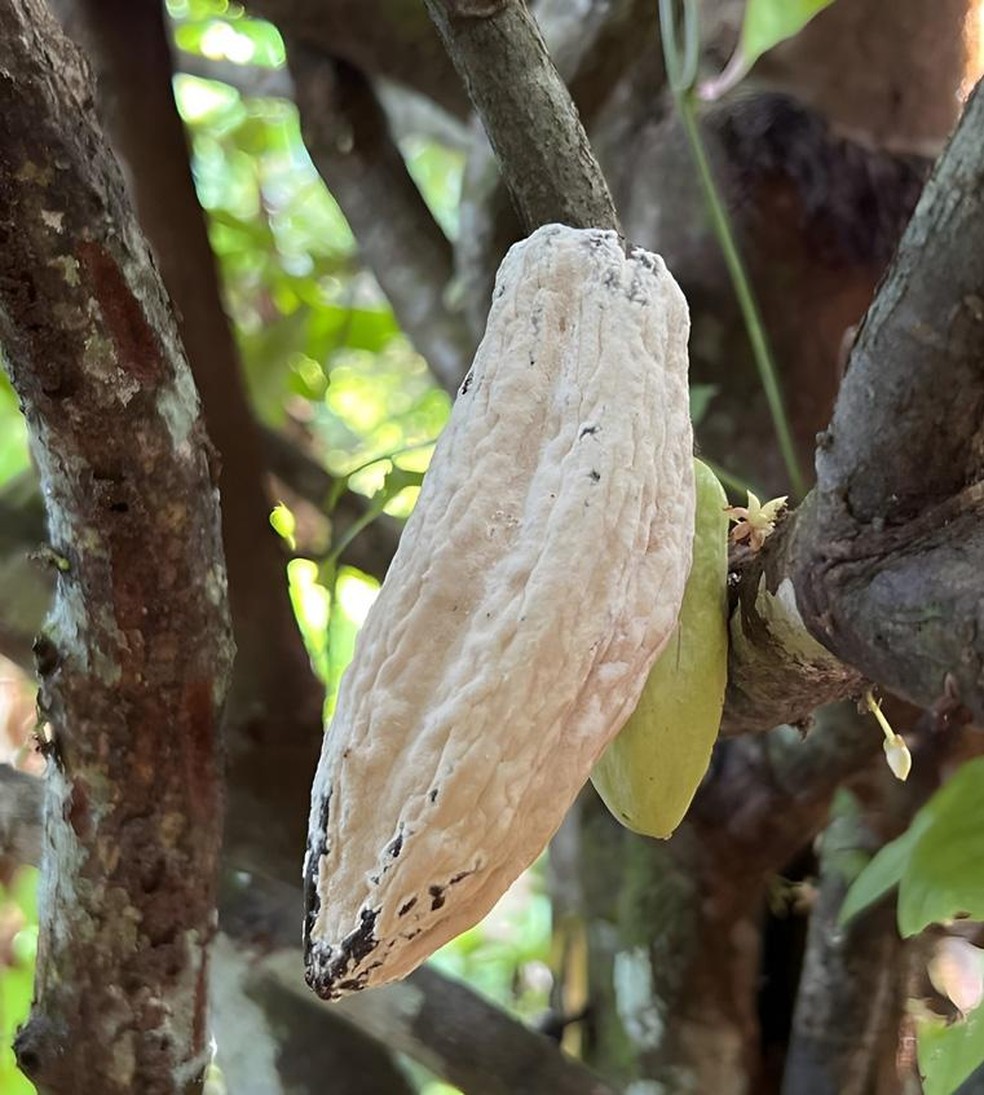 Cocoa affected by moniliasis, which is more aggressive than witches' broom — Foto: Divulgação/Ministerio da Agricultura
A disease that has devastated cocoa crops in Latin American countries is also causing concern in Brazil. Although it has not yet affected Brazil's cocoa regions, moniliasis — a disease that attacks the cocoa tree at any stage of development and can cause losses of up to 100% of production — was detected for the first time in Brazil in 2021 on a cupuaçu tree in the municipality of Cruzeiro do Sul, in the state of Acre.
It was enough for the Ministry of Agriculture to impose a phytosanitary emergency state in August of that year due to the imminent risk of introducing the pest in the states of Acre, Amazonas, and Rondônia, a status that was extended earlier this month. In November 2022, the Ministry detected specific outbreaks in non-commercial cupuaçu and cacao plantations in the state of Amazonas.
Producers and experts who have experienced the witch's broom crisis, a disease that devastated cocoa production in Brazil in the late 1980s, fear the arrival of moniliasis in Brazil's cocoa regions and even claim that cocoa farming could succumb to a new pest. The Ministry of Agriculture itself acknowledges that its arrival in cocoa regions is only a matter of time.
"Cocoa farming could not bear another plague," said Cláudia Sá, a cocoa farmer in Itabuna, Bahia state, who has seen her crops devastated by the witch's broom.
"The broom has reduced the production of our farms by 80%. We have 150,000 arrobas of cocoa. With two years of broom, it went down to 20,000. If you've been through that, you don't want to go through that," she said.
So far, the ministry has found outbreaks in states that do not produce cocoa. The problem, according to experts, is if the disease reaches Rondônia and Pará — the latter is the largest national producer, with 146,300 tonnes, ahead of Bahia (137,600 tonnes), according to IBGE.
Moniliasis, a disease caused by a fungus, attacks the cocoa tree at any stage of development, making it more destructive than the witch's broom, which only affects young fruit.
Lucimara Chiari, head of the Executive Committee of the Cocoa Crop Plan (CEPLAC), an agency affiliated with the Ministry of Agriculture, said the danger is imminent, but highlighted the difference in the country's preparation to tackle new pests. "Brazil is at a very different stage of study [knowledge about the disease] than when the witch's broom arrived in the country."
Cocoa expert Silvino Kruschewsky of SK Agro, who has been advising Central American countries on living with moniliasis since 2012, said there are several factors that, if combined, could contribute to the devastation of a cocoa area taken over by the pest.
According to him, the Brazilian cocoa chain would not be able to resist if the disease were to spread extensively to regions with old cocoa plantations, without sufficient technology to control it, with high plants, low density, and low productivity.
According to the expert, the Brazilian cocoa region is particularly vulnerable to the fungus because the vast majority of areas are still cabrucas — a cocoa plantation system in the shade of the forest — with low productivity.
"Cabruca is no longer sustainable or economically viable. Today it is very unproductive, with an average of 10 to 15 arrobas per hectare, which does not support any cocoa farmers. When moniliasis arrives in an area with old plants and a lack of nutrients, it ruins everything," he said.
With low productivity, these plantations generate less income and therefore have fewer funds for the cultural treatments needed to control the fungus, said Mr. Kruschewsky.
On the other hand, plantations with less shade, more technology, full sun, and irrigation can live with moniliasis with proper management, removal of diseased fruit, and phytosanitary control, he said. "There are some products in development for witch's broom that could be viable for moniliasis."
Juliana Alexandre, head of pest control and monitoring at the Ministry of Agriculture, said the pest was identified in time for control and emergency measures to be implemented in Acre and Amazonas, allowing growers to better prepare. However, she agrees that unprotected and poorly maintained crops can be devastated in the event of an infestation.
"What is missing is that producers are prepared to detect moniliasis. They need to take care of their crops because you cannot guarantee protection in abandoned areas," he said.
Ms. Alexandre said that the decree of phytosanitary emergency allows to streamline the importation processes of products that can be used in the fight against the pest, and also gives more space to states to organize.
She said the extension of the state of emergency is "natural" because it is "a medium-term process." She added that there has been no significant advance of the disease since the foci of moniliasis were identified in Brazil.
According to her, the ministry's main concern today is the focus of the disease in the Amazon, in a riverine region, because the plant is native and difficult to manage. Among the measures taken, a risk area has been defined, which will remain under control to prevent the pest from entering Pará.
The possible arrival of the disease in Pará would lead to a state of quarantine. In this case, the state would be closed, and cocoa exports would be forbidden.
*Por Marcos Fantin — Itabuna (Bahia), São Paulo
Source: Valor International