Agenda includes partnerships in decarbonization, energy, and battery manufacturing
06/15/2023
---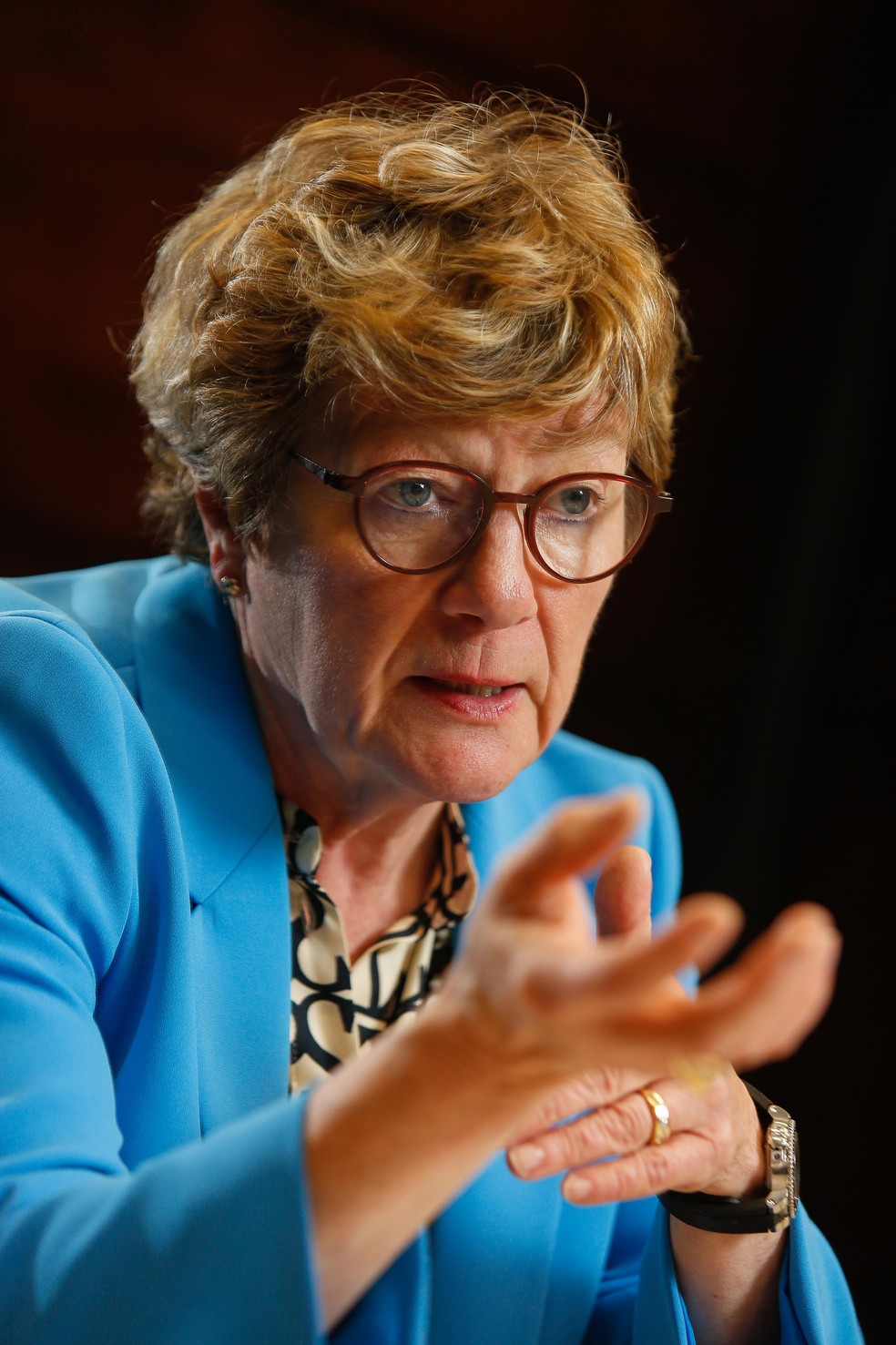 Nina Vaskunlahti — Foto: Leonardo Rodrigues/Valor
With ties severed with Russia, where Finland had investments and companies, the Scandinavian country is now looking for new partners and has its eye on Brazil, Nina Vaskunlahti, Finland's under-secretary of state for international trade, told Valor.
Ms. Vaskunlahti was in Brazil earlier this month as part of the delegation that accompanied the visit of Finnish President Sauli Niinistö to Brasília. On the Finnish delegation's agenda were partnerships in the fields of energy, decarbonization, value chains for battery manufacturing, and aviation – Brazil and Finland signed an agreement in the segment of aviation to promote tourism and deepen the exchange between the countries.
Trade between the countries jumped to $1.8 billion last year from $793.3 million in 2020, with Finland exporting more fertilizers and fuel oil to the Brazilian market, while Brazil has been exporting more commodities such as nickel, iron, and coffee.
The conclusion of the European Union-Mercosur agreement is key to accelerate the trade of industrial products, she said.
"There is now a window of opportunity," Ms. Vaskunlahti said. "It is an agreement that has been in the works for 23 years, almost a quarter of a century. It is a demanding agreement, but we have the best outcome now, which fulfills the needs of the four Mercosur countries and the demands and aspirations of all the EU countries."
Read below the main excerpts from the interview:
Valor: What is the purpose of the visit? Finnish companies in the delegation are investing in smart solutions and clean energy. Are there agreements with Brazil in these fields?
Nina Vaskunlahti: Brazil is Finland's biggest trading partner in South America, and trade between the countries is over $1 billion (FOB). But there is still room for growth. Our delegation brought together companies such as ICEYE Oy, IQM Quantum Computers, Neste Oyj, Nokia, Normet, ReOrbit Oy, Wärtsilä Corporation, and we had meetings with the ministries of Defense, Science, Technology, and Innovation, Mines and Energy, Development, Industry, Trade, and Services, and Agriculture, with the National Confederation of Industries (CNI), and with Petrobras. Some of the companies have been here for quite a while, like Nokia, which operates here for decades, and Wärtsilä, which works with renewable energy and has been in the country for 30 years.
Valor: Are there specific projects for the short term?
Ms. Vaskunlahti: We didn't talk about specific projects, we were looking for opportunities. For instance, what kind of solutions Finland has found that would be suitable for Brazil in energy or in decarbonizing production? What solutions in sustainable mining? One of the companies that accompanied us was Normet, which has state-of-the-art equipment for underground mining. Two other companies, ICEYE Oy and ReOrbit Oy, make satellites that can be used to monitor crops in agriculture. The keywords we discussed with Brazilian counterparts were "green", "sustainable," and "intelligent." Everyone understands that, in today's situation, there is no time to lose. You have to think about how to reduce your carbon footprint and decarbonize [the economy] altogether. I was there with them to show that we trust these companies and Finnish solutions. But companies decide what they want to do. Let's say the Ministry of Mines and Energy is announcing auctions for renewable energy generation. And Wärtsilä can participate. So it depends on the companies.
Valor: The Brazil-Finland trade relations reached $1.8 billion last year. This means a trade deficit for Brazil, but mainly it shows that we are exporting more commodities. How can the Mercosur-European Union (EU) agreement help expand this?
Ms. Vaskunlahti: What I tried to emphasize in the meetings I had, as President Sauli Niinistö did in his meeting with President Lula, is how important it would be to finalize the Mercosur-EU agreement. We feel that there is now a window of opportunity. It is an agreement that has been in the works for 23 years, almost a quarter of a century. It is a demanding agreement, but we have the best outcome now, which fulfills the needs of the four Mercosur countries and the demands and aspirations of all the EU countries. There are still some issues that must be solved, but I am sure this will happen. We consider the agreement important because it provides a level playing field, and this is extremely important in trade. When the agreement comes into force, there will be zero tariffs for industrial products, which is very important for consumers. One of the sticking points has been agriculture, but the EU is opening its market for agricultural products from this part of the world as well. Trading and businesses are going on, but the conditions will be better when we get the agreement.
Valor: Are there non-agricultural goods from Brazil of interest to Finland?
Ms. Vaskunlahti: An excellent Brazilian product that we bought is Embraer airplanes. We are also discussing what we could do together in the battery value chain, because Brazil has certain raw materials like lithium, and Finland has technology. So we could create a value chain together in Brazil. During the Finnish president's visit to Brazil, an aviation agreement was signed, which I think is a very concrete sign for airlines to start looking for opportunities, possibly establish air connections or codesharing [when airlines share the same flight], which is how you normally start. Another example of cooperation between Brazil and Finland is between Suzano and Spinnova, an investment totaling €50 million, to produce textile fibers in a sustainable way that will replace traditional cotton fabric. The cost is not that much and [carbon] footprint will be reduced in the course as well when ships start using less fuel, which will happen in the future. But I would say that the raw materials [that Brazil sells us] are important. They are essential, necessary items.
Valor: What has been blocking the Mercosur-EU agreement so far? Points about agriculture, deforestation, or Brazil's previous administration?
Ms. Vaskunlahti: I don't know the details. I know it is the problems of the Amazon deforestation, that have been some unhappiness among European farmers in the face of cheap agricultural products from South America in European markets. But as our president stated in his meetings with President Lula, we need partners. Europe needs partners. And Brazil and other South American countries need partners. When you have an agreement, you show that you trust each other and that you want to deal together and find ways to do it. The world is in a very challenging stage.
Valor: Has the war in Ukraine in any way benefited Finnish exports? When we look at the imports of Finnish products by Brazil, we see increased sales of fertilizers, fuel oil, and machinery.
Ms. Vaskunlahti: Certainly not, no. It's a devastating war, it's an illegal aggression by Russia on Ukraine, which is a sovereign country. And as a result of Russian acts, EU, U.S. and UK have issued sanctions on Russia. There are separate sanctions packages on the Russian economy, and as a result, most European companies have decided to leave the Russian market. Russia used to be an important market for Finland and an important place for Finnish investments. Now 85% of Finnish companies have left the Russian market, and I wonder if they will ever come back. So it was a loss for us. The market has been lost, trust has been lost. And it will take a long time before trust returns. And that means that those companies that left are looking for new markets, and maybe Brazil could be one of those markets.
Valor: You mentioned economic fears, but what are the political fears regarding the war?
Ms. Vaskunlahti: We don't fear anything. Of course, the security situation in Europe has changed and changed profoundly. We see a country attacking its neighbor, which is a sovereign country. We have been supporting Ukraine from day one, and so far the support for Ukraine is already over €1 billion. And we will stand by Ukraine for as long as it takes. Finland joined NATO (North Atlantic Treaty Organization), we became members a month ago. After the Russian attack on Ukraine, we had to draw a conclusion: We have a neighbor that is behaving in an unpredictable way, so what shall we do? Very quickly the public debate about joining NATO took over Parliament, the government, the media, academia, everyone was talking about the pros and cons. Within a few weeks support for joining NATO rose to 89%. We believe that NATO, and also because we are part of the EU, gives us a framework for our foreign security policy. NATO membership provides security, not only for Europe, but also for other countries.
Valor: Finland is close to Russia, geographically speaking…
Ms. Vaskunlahti: We share a common border of a thousand kilometers. I worked for Russia for many years, so I feel disappointed. But this is life, and there's no room for emotions.
Valor: Brazil's position on the war is not clear. How do you see this?
Ms. Vaskunlahti: Peace is the most important thing, and President Lula has been speaking in many ways about how to reach an agreement, how to promote peace, how to end the war. As our president has said, every attempt to work for peace is valuable. But there have to be peace negotiations in which Ukrainian concerns are taken into consideration.
Valor: Recently, President Lula said that a narrative has been created about dictatorship in Venezuela. Does this statement bring him closer to autocratic leaders? Celso Amorim, adviser to the Presidency for Foreign Relations, visited Vladimir Putin. Are these worrying signs?
Ms. Vaskunlahti: No, it's good that you talk to President Putin as well. It would be interesting to know what's going on in his head. Every attempt is appreciated, every attempt is valuable. But you have to be clear about the conditions before any negotiations start.
Valor: Are there any relevant points that we have not addressed?
Ms. Vaskunlahti: Brazil's membership in the Organization for Economic Cooperation and Development (OECD), which is now in the works. It would be important to get Brazil as a member of the OECD. It is an organization of countries that share the same values and believe in the market economy. It is an organization that provides you with standards and regulations, and in which you also influence them by being a member. We had a meeting with the governor of São Paulo [Tarcísio de Freitas]. He mentioned in his speech, at an event at Fiesp, how joining the OECD would increase Brazil's attractiveness as an investment destination. There is a certain credibility when a country belongs to organizations like the OECD. So this is a very strong message from us, that membership should be pushed forward in this administration.
*Por Marsílea Gombata — São Paulo
Source: Valor International