Crop Plan to offer R$364bn, reward sustainable practicesunds available in 2023/24 cycle is 27% higher than in current season
06/28/2023
---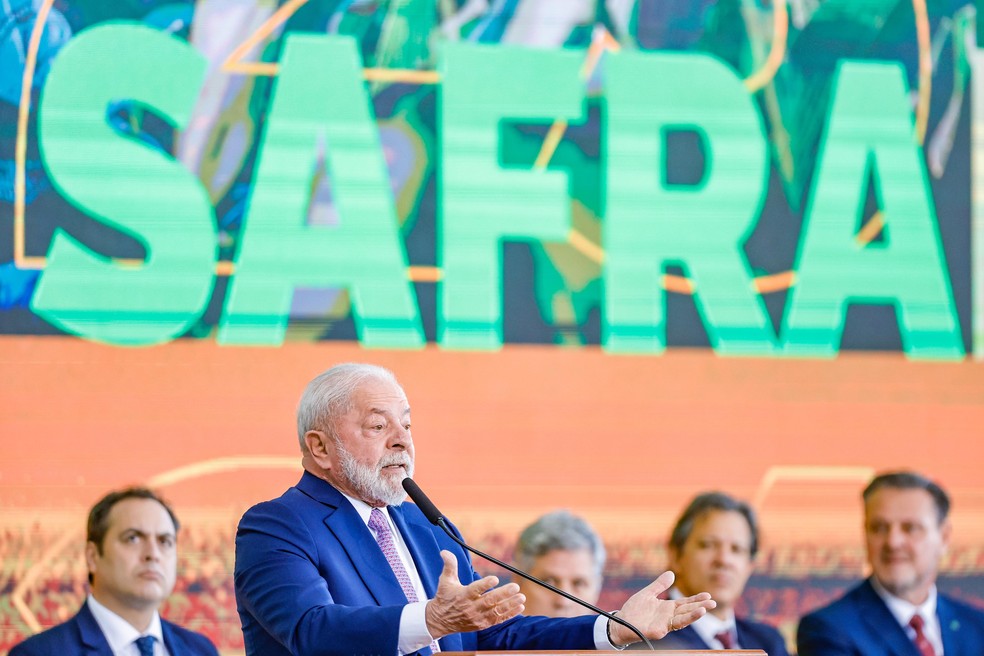 Luiz Inácio Lula da Silva — Foto: Ricardo Stuckert/PR
The Crop Plan 2023/24 for corporate agriculture will have R$364.2 billion in funds as of July, amount 27% more than the amount extended in the season that ends this week, of R$287.1 billion.
The priority will be to cover the current expenses of the new crop, given the scenario of falling prices of agricultural commodities and lack of capital this year. The lines for this purpose will amount to R$272.1 billion, with interest rates between 8% and 12% per year. Another R$92.1 billion will be allocated to investment programs, with interest rates ranging from 7% to 12.5% per year.
The Crop Plan, which was launched on Tuesday in a ceremony at the presidential palace, will provide up to R$12 billion to finance producers who have the Rural Environmental Registration (CAR) analyzed, no environmental liabilities, or who have already joined the Environmental Regularization Program (PRA). As a result, the final interest rate will be reduced by 0.5 percentage points.
The novelty will also "reward" those who adopt sustainable production techniques, such as the use of bio-inputs, the maintenance of green roof in the country, and waste treatment, among others. The total reduction may reach 1 p.p. The rules to tap these cheaper funds and the ways of verification to satisfy the control agencies will be defined and published shortly.
Agriculture Minister Carlos Fávaro said President Luiz Inácio Lula da Silva determined that there should have enough funds for financing without increasing interest rates. "We gave priority to having plentiful means for financing. Since we did not have so much money for subsided financing, because interest rates are so high, it was fundamental this determination of President Lula to have the capital to finance the harvest," he told Valor.
Mr. Fávaro said that the R$5.1 billion budget for subsided financing was lower than what he requested to the economic team, but that there was a "confrontation" with the Central Bank to increase the demands of rural credit sources. This measure, according to the minister, allowed the expansion of the volume of financing for the next season.
"This is the secret about where the money came from. The government's decision to allocate more funds to agriculture was crucial," he said. "It increased funds for subsided credit, but not as much as we wanted, because it costs the Treasury. The bill was very high because we wanted more funds and with much lower interest rates," he said. The request reached R$18.5 billion for the entire plan. The proposal included lower interest rates and higher premiums, with a reduction of up to 3 p.p. to encourage sustainable practices.
Mr. Fávaro said there will be no shortage of money to finance the crop and that he expects subsided lines to have available funds until June 2024. To complement these volumes, he said he would continue to work on the formulation of alternative sources of financing, especially with the Brazilian Development Bank (BNDES).
The general interest rates for the next season were maintained at 8% per year for the program of support to medium-sized farmers (Pronamp) and 12% for large producers in the 2023/24 Crop Plan. Some strategic lines will offer better conditions, such as the purchase of machinery by medium-sized farmers in Moderfrota (credit program for equipment, such as tractors), with a rate of 7%. Mr. Fávaro also highlighted the increase in funding for the Program for the Construction and Expansion of Warehouses (PCA).
The event was attended by several leaders in the agricultural sector and was received as a gesture of goodwill by the government. "No country in the world can compete with Brazil when it comes to sustainability," Mr. Lula said at the event. "We don't need to deforest anything to raise more cattle or plant more soy. We have the opportunity to recover millions of hectares of degraded land in this country. We don't even have to invade more land. The government can survey vacant and unproductive lands. We can create a 'land shelf' for agrarian reform," he said, in a new nod to the sector.
The ceremony was also full of criticism directed to Central Bank President Roberto Campos Neto for keeping the key interest rate Selic high. "Brazil cannot be held hostage by a person who is not committed to economic development. This Crop Plan is being built with a [base] interest rate of 13.75%. It is very difficult to offer subsidy based on that," Mr. Fávaro said at the event.
Environment Minister Marina Silva highlighted the environmental components of the 2023/24 Crop Plan, saying that it could be an "important inducer" of productive practices aimed at sustainability, but that this would be done gradually. She also said that access to rural credit will be blocked for areas in any biome where there has been illegal deforestation. This measure was previously applied only to Amazon.
Mr. Fávaro stressed that since the entire Crop Plan is based on low-carbon agriculture, the ABC+ credit line has now been renamed RenovAgro. According to the minister, it will begin to promote the conversion of degraded pastures, with interest rates of 7% per year, but a major plan to transform these unproductive areas into crops is still under study.
*Por Rafael Walendorff, Fabio Murakawa, Andrea Jubé — Brasília
Source: Valor International