Chestnut and walnut seedlings inoculated with spores of a Brazilian species are cultivated in the South region and Serra da Mantiqueira
06/21/2023
---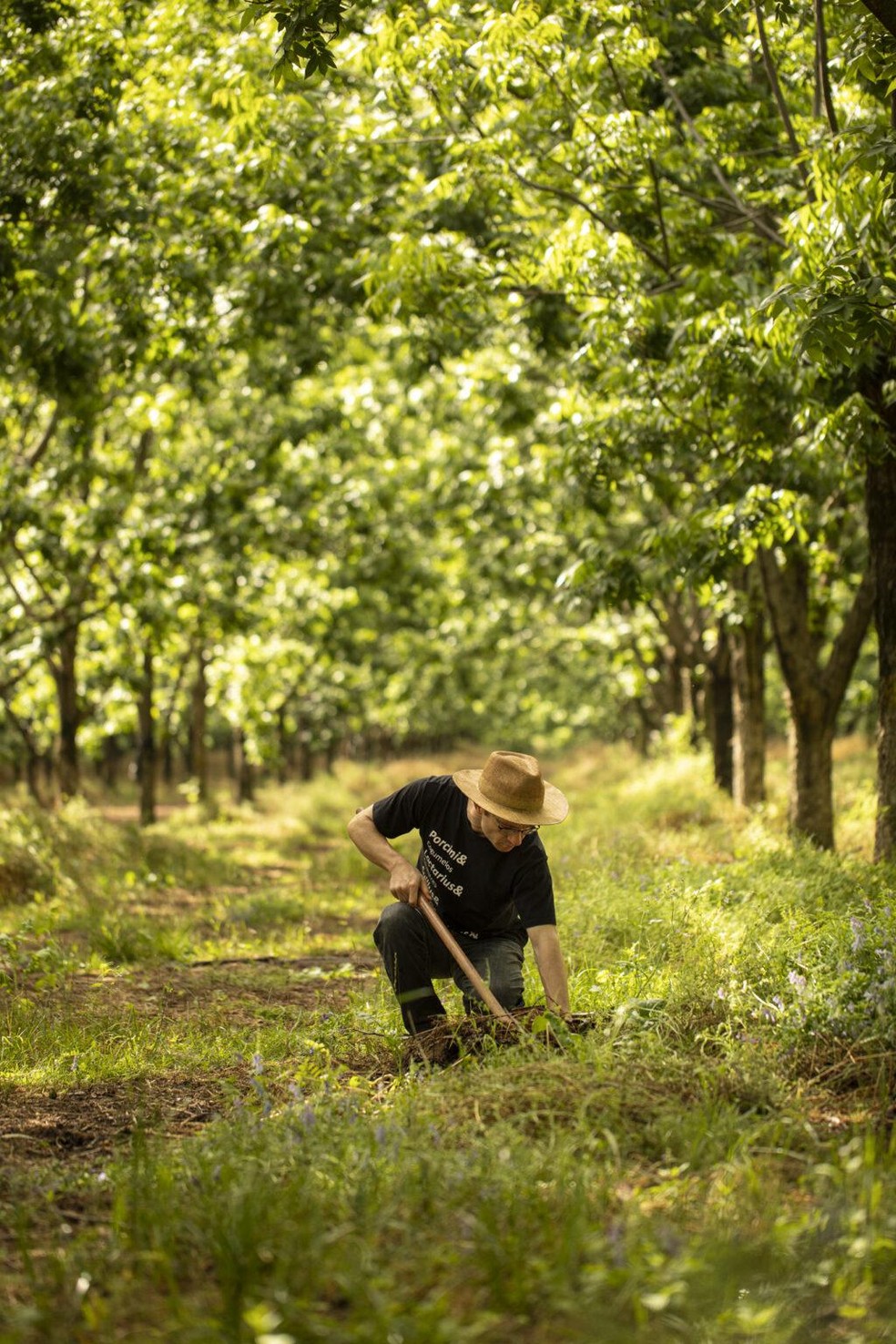 Marcelo Sulzbacher — Foto: Divulgação
In this land, whatever is planted will be harvested — said the letter written to the king of Portugal when Brazil was discovered. Really? Biologist Marcelo Sulzbacher believes so. He is a pioneer in the country planting seedlings of walnut and chestnut trees inoculated with truffle spores, the delicacy that can cost up to R$22 per gram. In five or six years, he hopes to have a steady production of the fungus.
It will be the recognition of a work that began in 2016, when Mr. Sulzbacher himself, a doctor in fungal biology, found the first Brazilian truffles in the municipality of Cachoeira do Sul, Rio Grande do Sul, in the pecan orchard of the company Paralelo30.
Since then, the researcher has immersed himself in studies to understand the growth cycle of truffles in tropical climates. The first goal was to improve the management of the orchard in Cachoeira do Sul in order to stimulate the birth of truffles in the roots. Once this was achieved, a bolder plan emerged to grow truffles from previously inoculated seedlings.
"Although management is advanced in other countries, such as Australia, Chile, and the United States, there was no way we could bring a 'recipe' to Brazil, because the climate is completely different, and the soil has its own features. It took an unprecedented amount of data collection to adapt the techniques," he said in a video interview.
The improvement in management has borne fruit or rather mushrooms. In the last production cycle, harvested in March, the Paralelo30 orchard yielded 30 kilograms of the Brazilian Sapucay truffle, a species of American origin.
"Not only did we get more units, but we also got bigger and more aromatic truffles. In the beginning, we found 5-gram units. Today we have 60-gram and 80-gram units," he said.
According to him, Brazil has regions that are very favorable for the cultivation of truffles, such as Serra Gaúchas, Serra Catarinense, and Serra da Mantiqueira. "The expectations are great. We plan to create orchards in these places, from seedlings inoculated with the spores," he said, adding that it is a long-term investment that can be improved.
In the Morungaba region, São Paulo, engineer Fernando Heer has already invested in the planting of a forest of 400 pecan walnut trees inoculated with truffle spores, with advice and support from Mr. Sulzbacher.
The seedlings arrived in December at about 50 centimeters in height and have already doubled in size. "It is expected that in five to 10 years, depending on how the plantation develops, it will start to pay off," Mr. Heer said.
Another member of the team of truffle enthusiasts is Rodrigo Veraldi, an agronomist who owns a property and a restaurant in São Bento do Sapucaí, São Paulo, and also in Serra da Mantiqueira. In 2021, he and one assistant went "hunting" for truffles on his farm and were rewarded with discoveries on the first day of the search. Since then, he continues to find units in the summer.
The species found by Mr. Veraldi, however, is different from the one found in the South region. In São Paulo, they found versions of Tuber borchii, known in Italy as Bianchetto, because it is lighter in color than the others.
"We harvested a symbolic quantity and served it in our restaurant. The customers loved it, which motivated us to think about growing it," he said in a video interview. "We are studying which tree species are best adapted to the region to create a small local orchard," he said. Oaks and pines are among the options, according to Mr. Veraldi.
Besides the Sapucay truffle, found in Cachoeira do Sul, and the Bianchetto, seen for the first time in São Bento do Sapucaí, another species of truffle has already been found in Brazil, in the city of Monte Verde, Minas Gerais.
At the moment, the units found, called Maniba, are being evaluated in a taxonomic analysis laboratory in the United States to confirm which species they belong to or where they are derived from.
The discovery was made by organic producer Thiago van den Hoek Comenale in his orchard of oak, hazel, and walnut trees in Monte Verde.
Believing in the productive potential of the region, Mr. Comenale is already making long-term bets. Following Mr. Sulzbacher's advice, this year he planted an orchard of oak, hazel, and walnut trees, all inoculated with truffle spores.
There is an explanation for all the excitement surrounding the discovery and impending cultivation. Truffles are rare mushrooms, difficult to cultivate, and of great value in the gastronomic market. At first glance, they appear to be nothing more than acorns of dirt or lumpy potatoes growing near the roots of some trees, but their taste and aroma are appreciated all over the world.
Until recently, it was believed that truffles only grew spontaneously on the roots of trees such as walnut, oak, chestnut, and hazel. They were only found in certain regions of France and Italy.
But even with the development of cultivation methods, the practice is not easy and the delicacy is far from popular. It is still rare and expensive — the national truffles are sold for about R$8 per gram, while the imported ones can cost up to R$22 per gram.
Mônica Claro, the owner of Tartuferia San Paolo, has been working in this gastronomic niche for nine years, importing fresh and canned truffles from Italy to be used in recipes and development of new products. She believes there is a market for introducing Brazilian truffles into national gastronomy.
"As with wine, terroir influences the taste and aroma of truffles. So, we have unique features in Brazilian truffles, and they are very well accepted," she said.
Currently, Sapucay is already part of the restaurant's menu. "But we expect that with the growth of national production, Brazilian truffles will also be used to make jams, olive oils, cottage cheese, gourmet guava paste, and even premium fillings for cheese rolls," Ms. Claro said.
*Por Emilia Zampieri — Vinhedo, São Paulo
Source: Valor International